Please welcome Rachael Thomas back to the blog today!
***
Digging Deep Into Your Characters Backstory.
One of the first things to ask yourself when creating your characters is what's their backstory? What happened to them before they arrived on your page? You need to know all there is to know about them in as much detail as you can. Why? Your character's past will have shaped the person they are now as you begin to write. It will determine how they react to situation that will arise within your story and also the person they will be as you write the final chapter.
Each and every one of us will have experienced situations through our lives which have changed who we are and it needs to be the same for your characters. These can be good or bad experiences, but both will have an effect on your character.
Maybe your character is afraid of heights, the dark or thunder storms. What you need to know as the writer and creator of that character is, why? You need to delve deep into their past and find out everything. Once you are armed with this information you know exactly how your character will react when confronted with going to the top of one of the city's tallest buildings, or being lost in the woods on a dark night when not even the moon is shining. By knowing every little detail about that past experience your character will react in a way that is real and convincing to the reader. They will come alive on the page.
As your character progresses through your story he or she will come up against things which challenge them. They will face fears which will have held them back and this in turn will change them, allowing them to grow and change as they progress through the story, so that by the end they have faced and conquered fears and become a stronger, better person.
It will be the same with good events in their lives. Your character may associate certain places with good memories or people they've loved or shared happy times with. Events in your story which threaten such memories, people or places they associate with happy times, it will give your character room to grow and show the reader who they are now.
So, you have your hero and heroine, you've named them, but how do you find out all this information to create their backstory?
For me it is a gradual process and one I do in the planning stage of my books. I have sheets with questions that are designed to create more questions and yet more questions. Gradually their past begins to show itself. It doesn't matter how you do it, but in order to create real and believable characters you must know who they were before they appeared on your page.
However, it is important to remember the backstory isn't the main story. It mustn't be allowed to overpower the story you want to write. Neither must it be dumped on the reader in big doses. It should be weaved into the main story, giving the reader tantalising insights into what made the characters they are now.
Happy Writing!
***
Connect with Rachael Thomas on the web:
Website
Blog
Facebook
Twitter
Goodreads
The Sheikh's Last Mistress Promoted to Princess!
Destiny Richards knows she is playing with fire when she accepts charismatic Sheikh Zafir Al Asmari's job offer, but it seems like a fair price to pay to start her life over again. Until the temperature reaches the boiling point and Destiny finds herself spending one out-of-this-world night with the sheikh! When powerful Zafir seduces English rose Destiny, he never anticipates she'll hold the title of his Last Mistress. But their scorching affair has shocking repercussions. Now, before their nine months are up, Zafir must convince Destiny to make their arrangement more permanent!
Read Reader Reviews
Buy Links:
Amazon Kindle
Amazon Paperback
M&B UK
M&B Aust
Harlequin US
B&N
Goodreads Giveaway: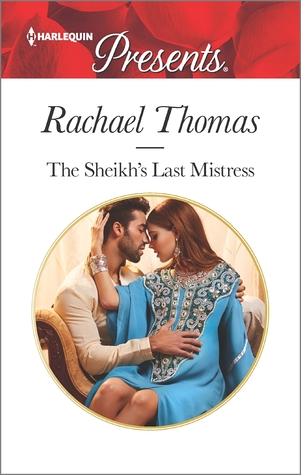 Enter Giveaway
***
Thanks Rachael!
The first novel I wrote had a prologue AND at least twenty pages of backstory before the story finally started!! Boy, I've learned a lot since then!
How about you? Any more hints for backstory? Any horror stories like mine?